Every morning my partner, Steve, and I go up to our roof to greet the bees as they begin their day's work. After all, time is honey. While I sometimes struggle to find 15 minutes in my morning to say hello before I leave for work, pollinators are always there, rain or shine, all day and all night, whether we're out there enjoying our garden. Enjoy it or not. Ultimately, that's why we chose to design our outdoor space with a larger environmental agenda in mind.
After all, time is honey.
The only thing that made our Chicago condo purchase more appealing than the roof was the inspection note that the roof deck was rotting and would need to be replaced. Steve and I both went to school for architecture, so the chance to redesign anything was a welcome treat. For the first growing season, we enjoyed decomposing decorations with our plastic pots, sketch-covered paper pieces and a few cocktails while developing the new design. Although my initial inclination toward space was more rigid and plant-heavy, I couldn't help but notice the number of pollinators that showed up in our small collection of containerized plants, no matter what time of day we were on the terrace. I am I realized that even though my lost perennials were only a block away from Chicago's Lincoln Park, they were providing much more than the surrounding lawn and mulch circles. This forced me to decide that the plant palette would not be a color scheme but food, shelter and safe space. My preference for clean, muted colors will find its moment as a contrast in hardscape and furniture choices. I changed my design thinking, rewrote the narrative of how the space would be used, and spent the spring refining the plan before the construction date.
---
Aerial view of the pollinator pit stop
Placing the two outdoor living areas at opposite ends of the terrace ensures that the garden in the middle becomes a playground for pollinators and birds alike.
Entrance to the terrace
Girl
Outdoor dining table
Catwalk
Planting bed 1
Planting bed 2
Outdoor living room
Smokestacks
---
Create a setting that is pleasant for people and wildlife.
I'm as much a collector as I am a gardener, and when faced with the limited footprint of 611 square feet, two personality traits created quite the dilemma. My ultimate goal was to maximize the efficiency of human spaces by minimizing the hardscape footprint and maximizing planting area. Through various iterations I kept coming back to the same scheme for the terrace: two entertainment areas, framed by catwalks, which would be compressed between large plant spaces. As a bonus, this setup gives pollinators and birds their space away from humans. Proportionally, this gives us plenty of room to entertain friends and get our coveted view of Hancock Tower, while the compression factor gives a large portion of the ceiling back to my plant collection. Allowed and more importantly, our pollinator guests. When I considered the amount we'd spend outside versus the amount pollinators would do, it seemed reasonable that the percentage of hardscape felt extra to softscape.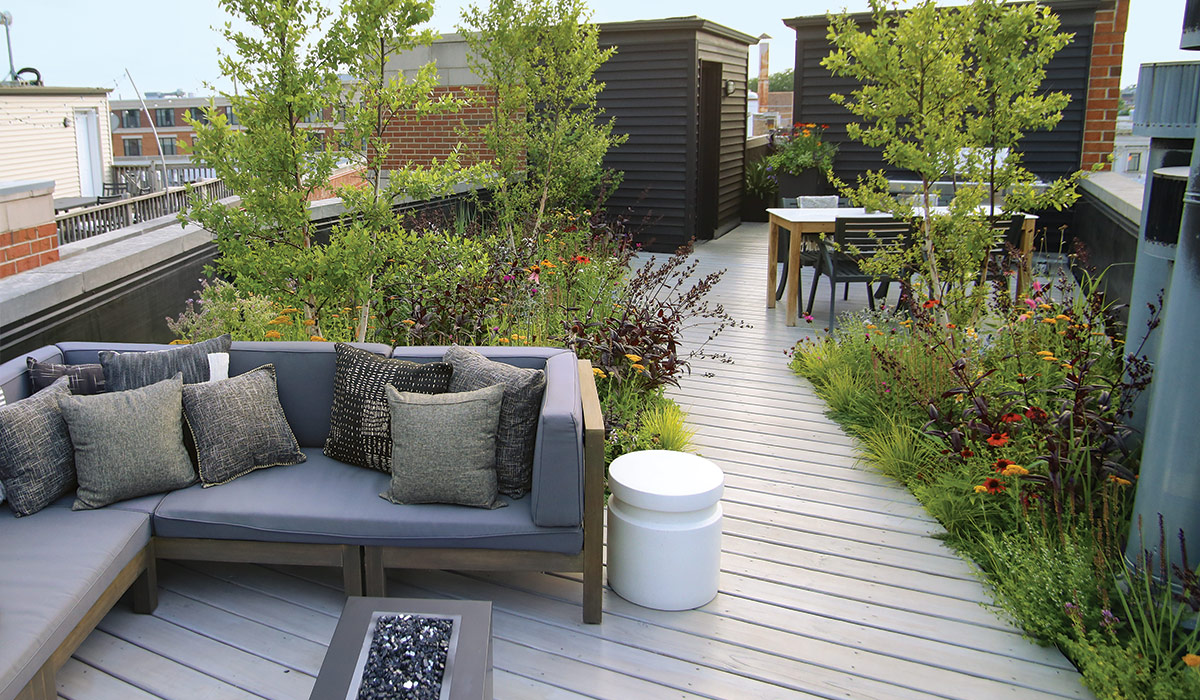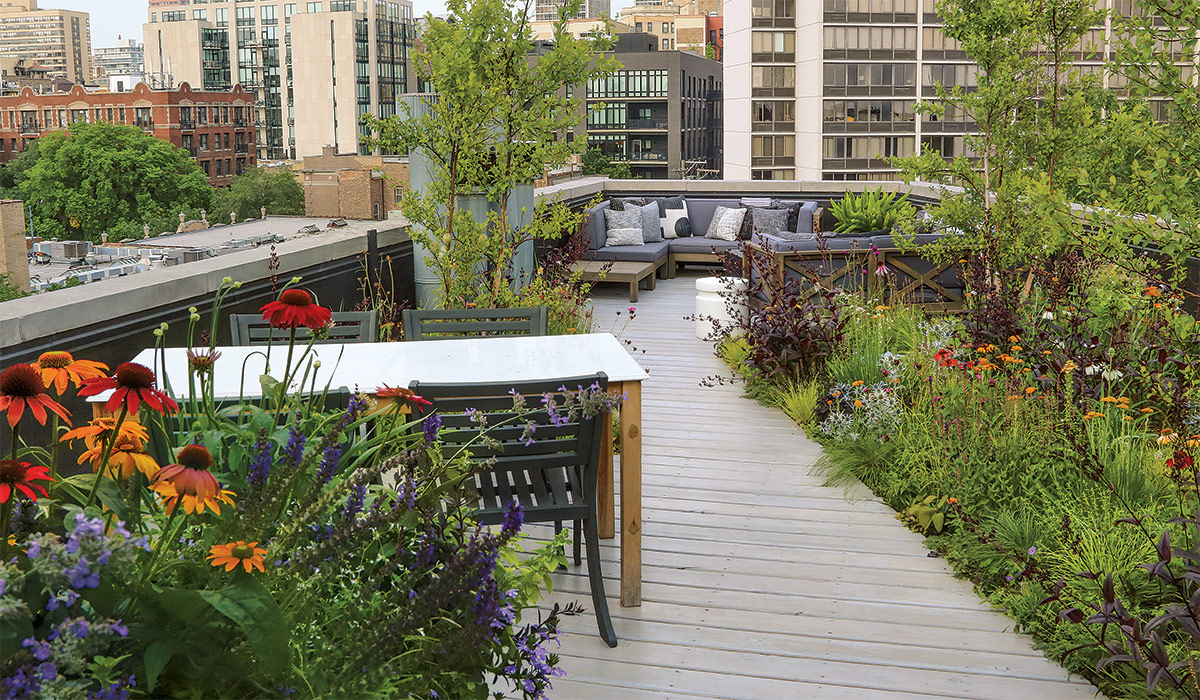 It was important to keep the soil depth shallow and below the catwalk to create the feeling of walking through a garden rather than a cluster of planters on a terrace. Slight topography changes within the square planting modules allow the edges of the "garden beds" to be as deep as 4 inches or as deep as 12 inches. Deeply anchored trees are placed to screen neighbors and eliminate the need for canopies. With most plantings being in 6 inches or less of soil mix, it also became important to choose plants that I thought would thrive in the harsh conditions.
Select "model citizen" plants.
Spring has arrived and change has begun. Our evenings and weekends were spent laying drainage tiles and rooting, hauling every element of our soil structure up five flights of bagged stairs, and up our interior stairs without upsetting the neighbors. Find ways to get trees. I treated the terrace as my playground, with no strict planting plan but a matrix of grasses such as earthquake grass (Brezza Mediazones 4–11), switchgrass (Panicum virgatumzones 3–9), and autumn peacock grass (Caesleria autumn, zones 5-9) to tie everything together. Inspired by the designs of Piet Oudolf and Adam Woodruff, among others, I looked for perennials that would provide seasonal interest and pollination benefits. Instead of focusing strictly on native plants, I began collecting plants I call "model citizens" with criteria tailored to pollinator biodiversity and care needs. By May we strategically placed Dura-Heat® River Birch (Betula nigra. 'BNMTF', Zones 4–9) while mail-order plants were planted in beds after boxes of plugs.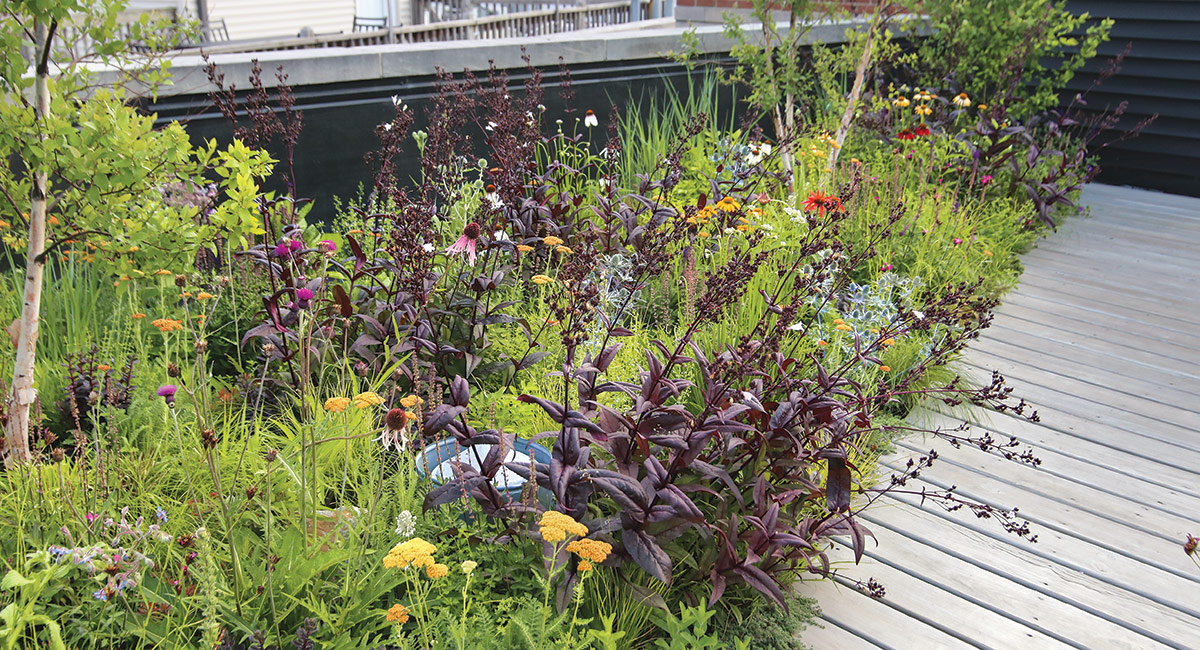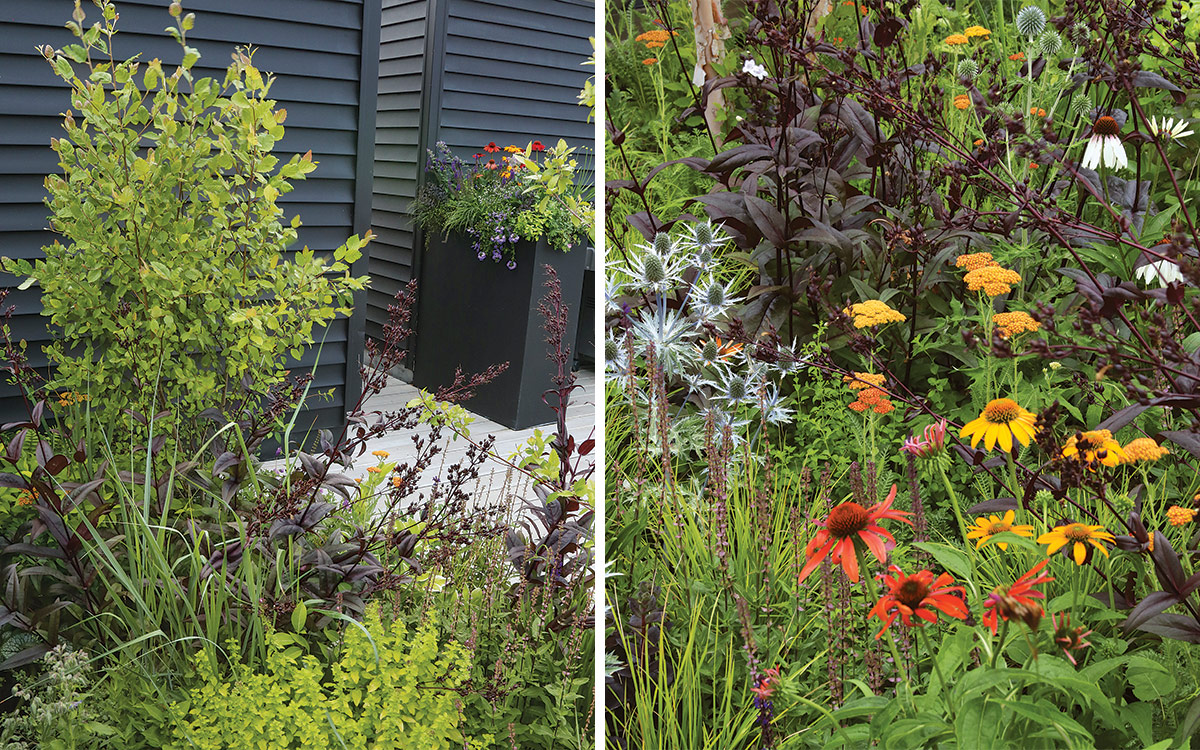 Each growing season comes with an assessment, followed by additions and subtractions. Standouts like Calamante (Calamintha nepeta subsp nepetazones 5–7), 'Onyx and Pearls' penstemon (Penstemon Digital 'Solomon and Pearl', zones 3–8), and 'Drops of Jupiter' oregano (Origanum 'Drops of Jupiter', zones 4-9) were grown for their durability during the growing season and the bees' obsession with them.
'Cheyenne Spirit' coneflower (Echinacea 'Cheyenne Spirit', zones 5-9) was swapped for 'Pretty Parasols' coneflower (E. 'Pretty Parasols', zones 5-9) and pale purple coneflower (E. Pallida, zones 3–8). The new addition provided a much-needed lighter color within the same species so that our resident American goldfinches would still have plenty to eat.
My "model citizen" approach was sometimes a little too conservative when it came to size, so I added the rattlesnake master (Eryngium yuccifoliumzones 3–9), 'Rusty' Foxglove (Digitalis ferrugineazones 4–9), and 'Lady in Black' Easter (Easter 'Lady in Black', zones 3-8) for scale change in plantings. At first the plant palette approach seemed ambivalent, with sustainability and pollinator appeal on opposite sides, but often these two factors are the same. Ecosystems of perennials, trees, and grasses have allowed us to learn bee circadian clocks vs. bumble bee pollination times, or our resident Katydid's (affectionately named Katy Perry) favorite time to sing, about time. starts to chatter. The speed of chimney is called night.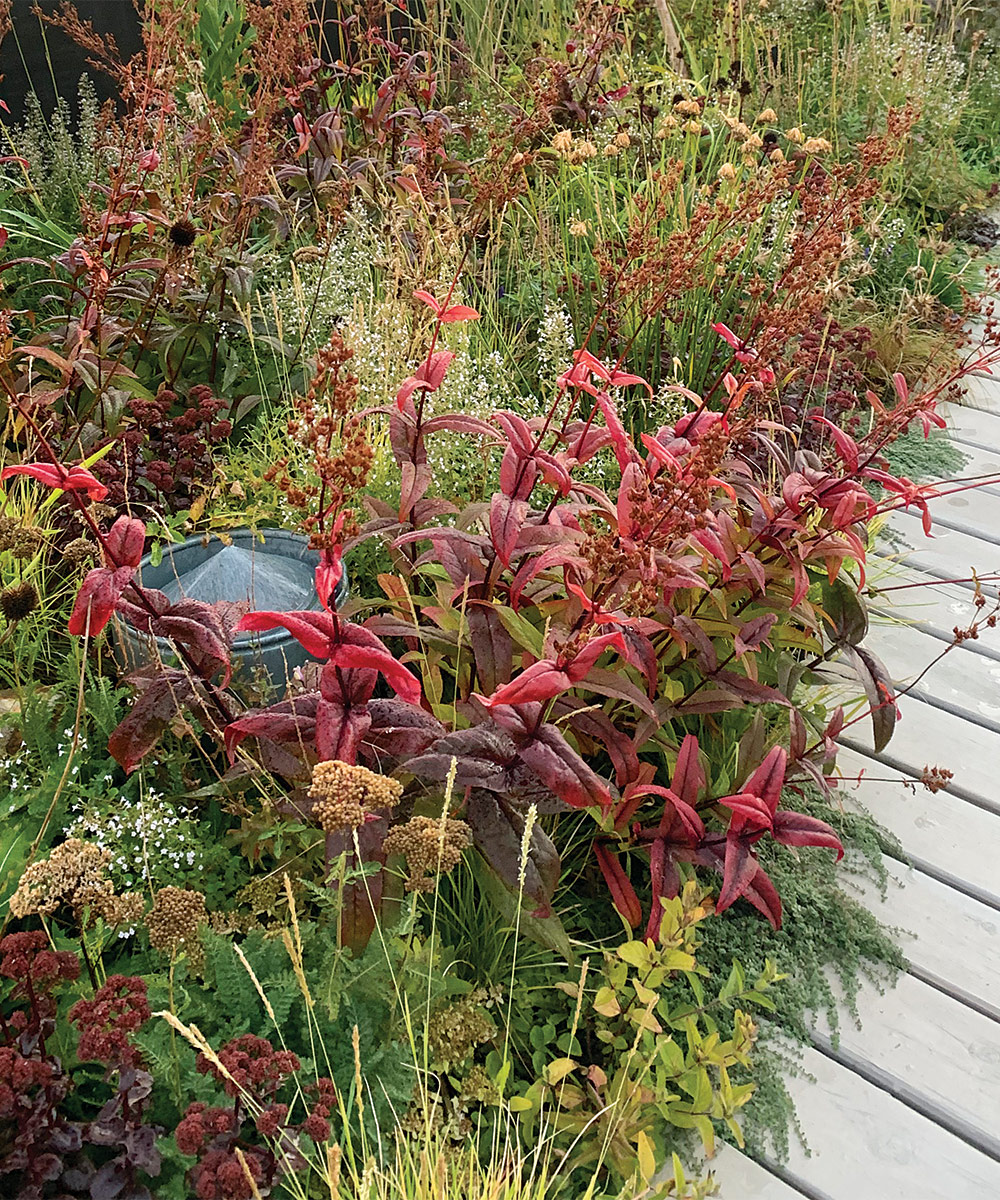 Rely on neutral tones for hardscape and outdoor furnishings.
The move away from a stricter and better plant color palette in favor of more diverse flowers and plant choices for pollinators meant that the surrounding hardscape had to be simplified to reduce the riot of colors on the roof. The siding and parapet walls were painted black for a clean background, and the deck color was customized to resemble limewash. Neutrals in all shapes and forms, including surrounding buildings, help to tame the array of reds, oranges and yellows seen during planting.
Furnishings in outdoor living areas are always changing, but they are maintained in a similar monochromatic style. Currently we have chosen mostly grey, black and cream tones for these accessories. In the future we will make sure that any additional hardscape or new furnishings are selected so as not to compete with the dynamic planting.
Over time, planting changes to cope with damage from harsh winters, wet springs, or dry autumns, but the joy of gardening is always in experimenting rather than doing what is tried and true. Right. The bees come back each year to prepare a slightly different meal, and I am willing to adapt as needed. After all, time is honey.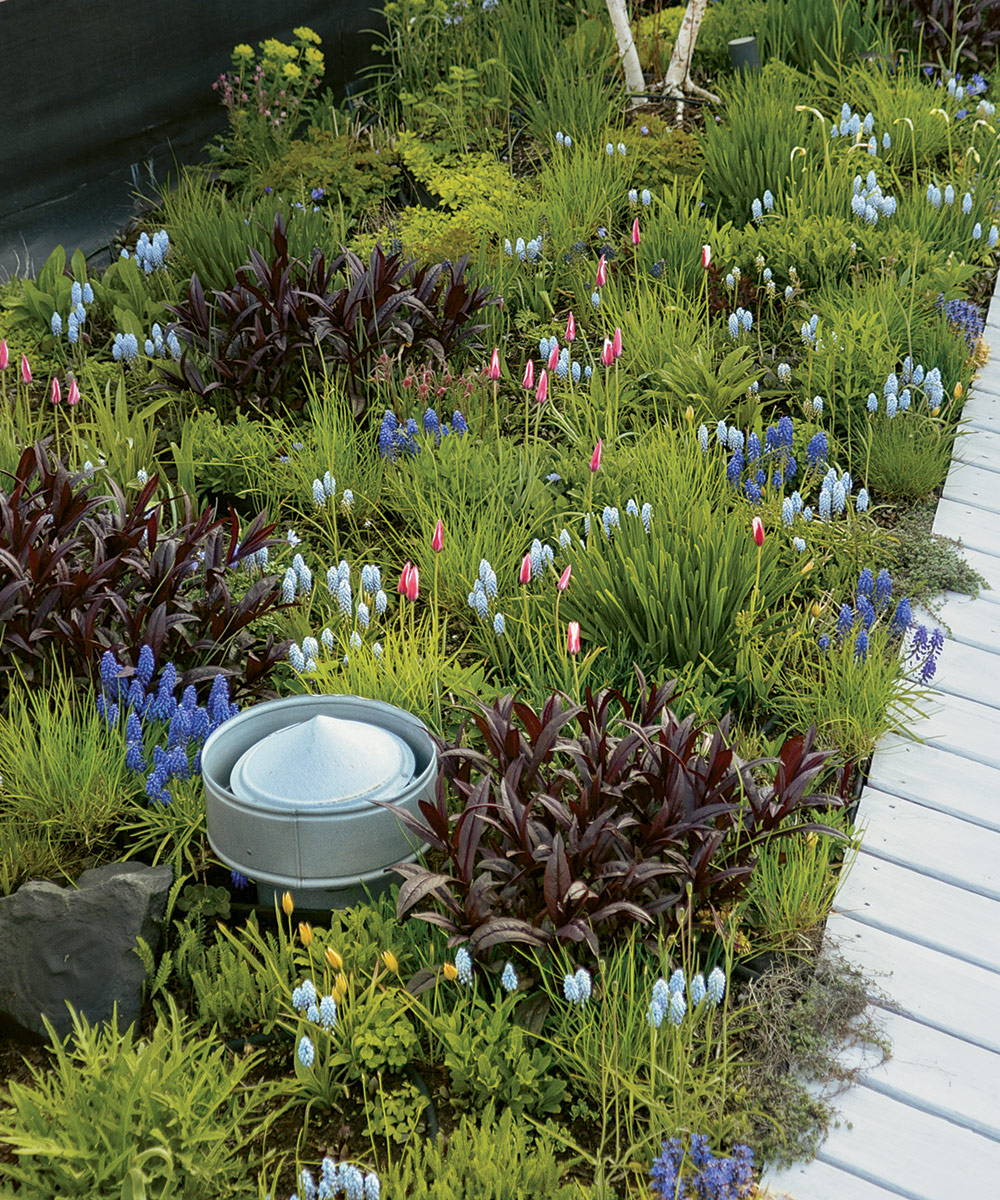 ---
Hayden Regina is a landscape architect and planting designer in Chicago.
Photos, except where noted: Daniel Sherry