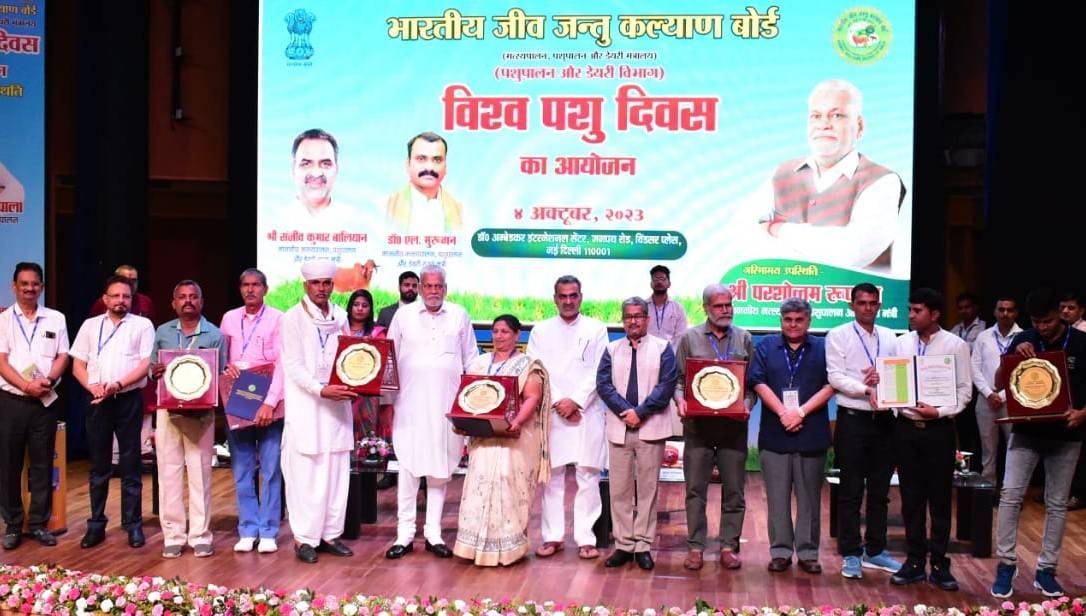 The Animal Welfare Board of India (AWBI), a statutory body of the Department of Animal Husbandry and Dairying, Fisheries, Animal Husbandry and Dairying, Government of India, celebrated World Animal Day 2023 today at a grand function in New Delhi.
The occasion was graced by the presence of important dignitaries including Union Minister for Fisheries, Animal Husbandry and Dairying Prashotham Rupala and Minister of State for the Ministry Dr. Sanjeev Balyan. Dr. Abhijit Mitra, Animal Husbandry Commissioner, and Dr. OP Chaudhary, Chairman AWBI, were also present.
Addressing the gathering, Union Minister Rupala emphasized the rich animal traditions in India which are of great importance to the society. He stressed the need to bring forward these traditional practices, which reflect respect and affection towards animals. Rupala particularly highlighted the important role of indigenous cows as the backbone of India's rural economy. He emphasized on the importance of better utilization of cow dung and panch gavya by-products. During the function, the Union Minister also presented the prestigious Parani Mitra and Jiv Daya awards.
Dr. Sanjiv Balyan echoed the sentiments of balance between humans and animals, emphasizing the vital coexistence of the two in society. He appreciated the laudable work of various organizations for animals and urged to extend these efforts to rural areas. Addressing the problem of stray animals, he stressed that it was a shared responsibility and appealed to the public to cooperate in tackling the challenge.
The technical sessions discussed key issues related to waste-to-wealth innovative technology, sustainability, and management of cowsheds, scientific insights into Panchgavya, and human-animal conflict management. Eminent speakers, including Jayesh Parekh, Girish Jay Shah, Prof. RS Chauhan, and Adv. Ms. Manisha T. Kariya, shared her insights and encouraged active participation in animal welfare activities, spreading awareness and compassion for animals.
The event recognized the selfless efforts of people, organizations and communities working in the field of animal welfare. Following are the names of the awardees in various categories.
Kind of

Name of Awardee/Organisation

Purani Mitra Award – Individual

G Ramakrishnan, Tiruchi, Tamil Nadu

Purani Mitra Award – Innovative Idea (Individual)

Purani Mitra Award – Innovative Idea (Individual)

Dr. Smita N. Solanki, Maharashtra

Purani Mitra Award – Shaurya / Bravery (Individual)

Pradeep Kumar Patra, Lucknow, Uttar Pradesh

Praani Mitra Award – Lifetime Animal Service (Individual)

Dr. Bathula Sanjeeva Rayudu, Kurnool, Andhra Pradesh

Praani Mitra Award – Animal Welfare Organization

Nashik Panchavati Panjarapol, Nashik, Maharashtra

Jive Daya Award – Individual

Parram Dayal, Jalur, Rajasthan

Jive Diya Award – Animal Welfare Organisation

Dadu Parivaran Sansthan, Tonk, Rajasthan

Jive Daya Award – Children (Individual – Below 18 years)

Hitesh Chandrajit Yadav, Mumbai, Maharashtra
AWBI's celebration on this important day reflects the collective commitment to a world where animals are not only protected but also nurtured. It calls on individuals and organizations to unite and work towards a world where animals are respected, protected and nurtured for future generations.

First Published: 04 Oct 2023, 21:03 IST