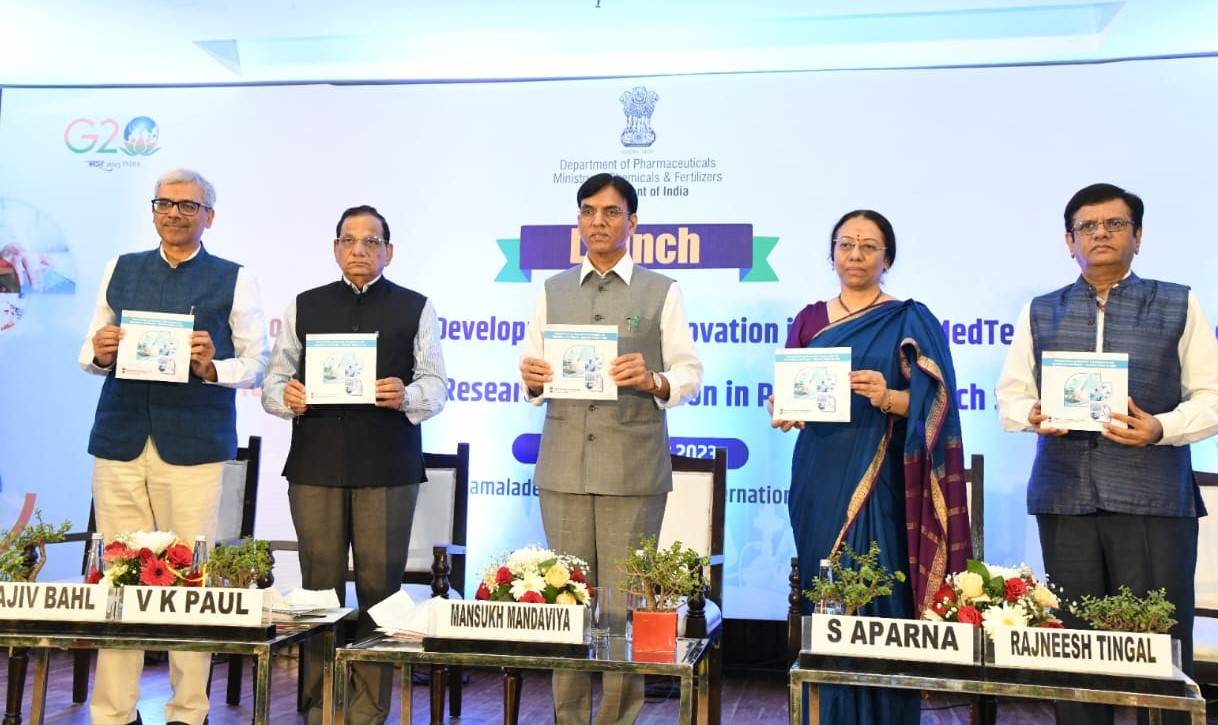 Dr. Mansukh Mandaviya, Union Minister for Chemicals and Fertilizers and Minister for Health and Family Welfare, Government of India unveiled the National Policy on Research and Development and Innovation in the Pharma-Med-Tech Sector in India along with the Research and Development Promotion Scheme. Innovation in the Pharma-MedTech Sector (PRIP) Today
The launch event, which saw the presence of several dignitaries including NITI Aayog member Dr VK Pal, Secretary (Pharma) in the Ministry of Chemicals and Fertilizers S Aparna and ICMR Director General Dr Rajeev Bahl. Dr. Mandavia emphasized the transformative potential of these initiatives.
Dr. Mandaviya said that these initiatives are aimed at shifting the Indian pharma and medtech sectors from their current cost-oriented orientation to becoming value-oriented and innovation-oriented. He added that the day is historic and represents a turning point in the journey towards achieving 'atmanirbharat' (self-reliance) in these important sectors.
According to Dr. Mandaviya, the objective of the scheme is to position India as a high-volume, high-value player in the global pharmaceutical market. It emphasizes the key elements of quality, accessibility and affordability, ensuring that India becomes a hub for pharmaceutical exports.
Additionally, Dr. Mandavia highlighted the importance of creating an ecosystem that nurtures skills and talent, including academia and the private sector. This approach will not only promote innovation but also encourage youth entrepreneurship through start-ups.
Dr. Mandaviya reiterated the Government of India's commitment to growth and innovation while emphasizing the importance of the healthcare and pharmaceutical sector. He highlighted the need for large-scale production of pharmaceutical products and medical devices and plans for three bulk drug parks in Himachal Pradesh, Vizag and Gujarat as well as four medical device parks in Himachal Pradesh, Uttar Pradesh, Madhya Pradesh and Tamil Nadu. Announced stay. To further strengthen this sector.
The Union Minister emphasized that self-reliance in pharmaceuticals and medical devices can be achieved only by strengthening research and development infrastructure. He pointed out that India should develop policies and products that meet national and global needs, in consultation with industry and academia. He suggested that the goal should be to achieve such independence that the country does not depend on anyone for its vital health needs.
NITI Aayog Member (Health) Dr VK Paul highlighted that India is now leading the world by learning from past experiences. He emphasized the importance of collaboration between academic institutions, government institutions and private institutions, citing the role of the scheme in preparing India to meet future challenges and ensure national biosecurity.
The event was attended by senior officials from the Ministry of Health and Family Welfare and the Ministry of Chemicals and Fertilizers, as well as policy makers, healthcare and pharmaceutical sector experts, representatives from academia, think tanks, industry leaders, and members of the media. of .
About the National Policy on Research and Development and Innovation in the Pharma-Med-Tech Sector in India
The Pharmaceutical Department, in accordance with the division of business rules, is entrusted with the responsibility of promoting and coordinating research in pharmaceuticals, education and training, international cooperation in pharmaceutical research, and other related fields. India's pharmaceutical industry is currently the world's third largest by volume, with a market size of around USD 50 billion. The industry has the potential to grow to US$120-130 billion over the next decade, largely due to expanding innovation.
Based on the recommendations of a high-level inter-departmental committee, a draft 'Policy to Stimulate R&D and Innovation in the Pharma-Med-Tech Sector in India' was prepared, with the aim of encouraging R&D in pharmaceuticals and medical devices. And was to create an innovation ecosystem. The policy, gazetted from August 18, 2023, focuses on creating a regulatory environment that fosters innovation, encourages investment in innovation, and a viable ecosystem for cross-sectoral research. constitutes the
The policy also proposes setting up of Indian Council of Pharmaceutical and Med-Tech Research and Development to promote collaboration between industry, academia and research institutions at national and international level. This policy is expected to contribute significantly to India's GDP, increase exports, improve health care index, reduce disease burden, create high-level jobs in R&D, and enhance skills in R&D and innovation. It is also expected to attract Indian talent.
About PRIP (Promotion of Research and Innovation in the Pharma-Med-Tech Sector)
The PRIP scheme, with a budget of Rs. 5,000 crore, to transform India's pharmaceutical sector from a cost-effective to an innovation-driven industry by strengthening the research infrastructure. It promotes industry-academia collaboration for R&D in priority areas, fosters a culture of quality research and nurtures a pool of scientists. The scheme consists of two components:
Component A: Strengthening research infrastructure by setting up seven Centers of Excellence (CoEs) at NIPERs with a financial outlay of Rs 700 crore.
Component B: Promoting research in the pharmaceutical sector by encouraging research in six priority areas, such as neochemical entities, complex generics, medical devices, stem cell therapy, orphan drugs, and antimicrobial resistance. Financial support will be provided for both in-house and academic research. The financial cost of this component is Rs. 4250 crores
The PRIP scheme is expected to build a world-class research environment, promote industry-academia collaboration, focus on priority areas, accelerate the development of the pharmaceutical sector, provide affordable healthcare. will develop care solutions, and contribute to India's global pharmaceutical position.

First Published: 26 Sep 2023, 21:34 IST