Looking for a foolproof zucchini bread recipe? Look no further! Learn how to make mom's zucchini bread that turns out perfectly moist and delicious every time.
I know there are tons of zucchini bread recipes out there, but I wanted to share my personal favorite. This is the recipe I keep coming back to no matter how many variations I try. This is my mother's zucchini bread recipe, which she made again and again to use up all the giant zucchini from our vegetable garden.
Once the aroma of freshly baked zucchini bread fills the kitchen, it's hard to resist indulging in a warm slice. Fortunately, this recipe makes two loaves. My mother would always put one loaf out for us to enjoy right away, while the other would be packed up and put in the freezer for a future treat.
The best thing about Mom's Easy Zucchini Bread Recipe is that it always turns out fantastic, even if you accidentally mix up the ingredient order or find yourself short on zucchini. Trust me, it's a winner!
Zucchini preparation
Before we dive into the recipe, let's talk about preparing the star ingredient: the zucchini. You will need 2 to 3 medium-sized zucchinis to get 2 cups of sliced ​​zucchini.
It is important to start with fresh zucchini and wash it thoroughly under running clean water. This helps remove any dirt or debris that may be clinging to the skin.
Next, cut off the ends of the zucchini. If you are using a large zucchini, you can cut it in half to make it easier to handle. For larger zucchini, it's also a good idea to remove the seeds before grating. Simply cut the zucchini in half lengthwise and use a spoon to gently scrape out the seeds.
To shred the zucchini, grab a box grater with large holes. Place the grater on a stable surface, hold the zucchini firmly, and slide it onto the surface of the grater. The result will be beautifully grated zucchini that is ready to be added to the batter.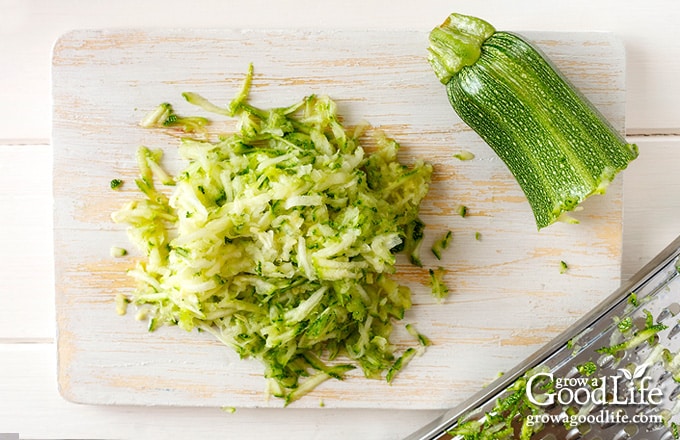 After slicing your zucchini, measure out 2 cups for this recipe. When measuring, pack it lightly into the measuring cup. This means you can gently press it with a spoon or your fingers to remove any large air pockets and ensure an accurate measurement. But don't pack it too tightly or squeeze out too much moisture, because zucchini naturally contains water, which contributes to the bread's moisture. The goal is to have a moderately packed measurement without excessive compaction.
If you are using frozen sliced ​​zucchini to make this recipe, thaw it overnight in the refrigerator. Place it in a bowl to catch any liquid that may spill out. When you add the melted zucchini to the batter, don't forget to add the liquid as well. It adds moisture.
If you find yourself with some extra diced zucchini after measuring what this recipe calls for, there are some great options for using it up. First, you can freeze extra sliced ​​zucchini for later use. Measure the amount left over so you know how much is in the package for your next recipe, and then store it in a freezer-safe bag or container. Remove as much air as possible, label the container with the date and amount, and store it in the freezer. It's ready and waiting for your next baking project.
Alternatively, you can get creative and make some delicious garlic cloves with extra chopped zucchini. These delicious bites are a wonderful way to enjoy the flavors of zucchini in a variety of ways. Get the recipe here: Zucchini Garlic Bites.
The One Bowl Wonder
Now, let's talk about convenience. I absolutely hate cooking, so I'm thrilled to report that this recipe only requires one large bowl. It doesn't get any easier than that!
How it works: You will combine the dry ingredients in a large bowl. Next, make a well in the center and add the wet ingredients and chopped zucchini. Mix until everything is combined, fill your bread pans, and bake. This is simplicity at its best.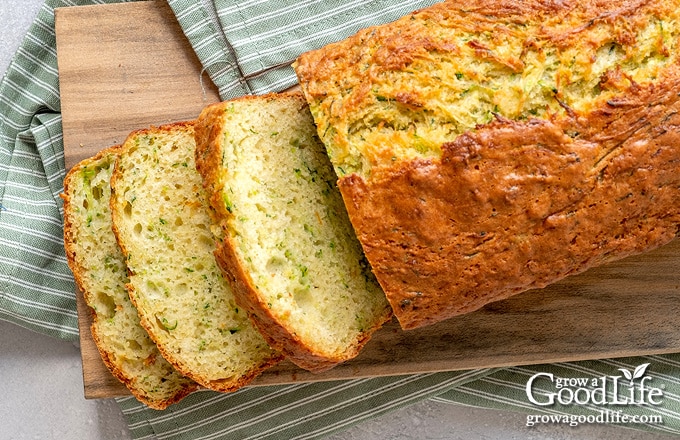 Frozen Zucchini Bread
Did you know that freezing zucchini bread can help preserve its delicious flavors and make it easier to enjoy later? With a second loaf on hand, you can treat yourself to a delicious homemade breakfast, surprise your loved ones at a family gathering, or even give it as a heartfelt gift. Here's a simple guide to freezing your own zucchini bread.
Cool the bread: Allow the zucchini bread to cool completely after baking.
Bread Wraps: Line a sheet of aluminum foil and waxed or parchment paper wide enough to completely wrap the bread with a slight overlap. Lay aluminum foil on the counter, place a layer of waxed paper, and place the cooled zucchini bread in the center of the waxed paper. Wrap the bread tightly, making sure all sides are covered.
Place in a freezer bag or container: Store the wrapped zucchini bread in a freezer-safe bag or airtight container. Press out any excess air before sealing. This will provide a protective layer, help the bread retain moisture, and protect the bread from freezer burn.
Label and date: Use a marker to write the name of the loaf and the date it was frozen. This will help you keep track of storage time and identify it later.
Frozen: Place the wrapped zucchini bread in the freezer, making sure it is flat to freeze. You can place it on a flat surface or baking sheet until it freezes firmly.
Melt and enjoy: When you're ready to enjoy the zucchini bread, remove it from the freezer and let it thaw at room temperature, wrapped. Once thawed, slice and serve as desired.
By following these steps, you can successfully freeze your zucchini bread and keep it fresh until you're ready to enjoy it. Zucchini bread can be stored in the freezer for up to 3 months without significant loss of quality. After that, it can begin to freezer burn or lose its texture and flavor.
Now, without further ado, here is the full recipe:
Mom's Zucchini Bread Recipe
Looking for a foolproof zucchini bread recipe? Look no further! Learn how to make mom's zucchini bread that turns out perfectly moist and delicious every time.
Instructions
Preheat oven to 350˚F (175˚C). Grease two 8 x 4-inch loaf pans.

In a large bowl, add the flour, sugar, baking soda, baking powder, salt, cinnamon and nutmeg. Stir until combined.

Make a well in the center of the dry ingredients and add the eggs, oil and vanilla. Use a fork to break the eggs and lightly whisk them with the oil and vanilla inside the well.

Add the chopped zucchini to the well, and mix everything together until just combined. Be careful not to over mix. We want a tender texture.

Pour the batter evenly into the greased loaf pan.

Bake in the preheated oven for about 1 hour or until a toothpick inserted in the center comes out clean.

Once baked, remove the pan from the oven and let the bread cool for a few minutes before transferring it to a wire rack to cool completely. Makes two loaves.
Nutrition
Serving: 1piece | Calories: 280kcal | Carbohydrates: 34Yes | Protein: 3.8Yes | fat: 14.6Yes | Saturated Fat: 3Yes | Cholesterol: 23mg | Sodium: 275mg | Potassium: 100mg | Fiber: 1Yes | Sugar: 13Yes | Calcium: 20mg | Iron: 1mg
Mom's Zucchini Bread is a tried and true recipe that never disappoints. Its moist texture, pleasant taste, and the option to freeze the bread for later enjoyment make it a true kitchen gem. But what if you find yourself with an abundance of zucchini from your garden or just want more ways to use this versatile vegetable? Don't worry, we've got you covered!
Here are some additional tips and preservation methods to get the most out of your zucchini crop:
Zucchini Garlic Bites: These flavorful bites are a fantastic appetizer or snack option, bringing out the flavors of zucchini and garlic in a delightful way.
Zucchini Lasagna: Swap traditional lasagna noodles for thin zucchini slices in this healthy twist on a classic dish. This is a great way to incorporate zucchini into a hearty and satisfying meal.
Cheesy Zucchini Roll Ups: Topped with chunks of juicy zucchini, the flavorful filling makes a delicious appetizer or side dish. These roll-ups are sure to impress your guests.
Baked Zucchini Fritters: Crispy on the outside, soft on the inside, these fritters are a great way to enjoy zucchini. Serve them as a snack, appetizer, or delicious addition to your meal.
Freeze Zucchini: Discover different ways to freeze zucchini to preserve its freshness and flavor for later use. From sliced ​​zucchini to sliced ​​or diced, you'll have plenty of options to choose from.
Zucchini Dehydration: Learn how to dehydrate zucchini slices for long-term food storage. Dehydrated zucchini can be used in soups, stews and other recipes, providing summer flavor all year round.
Bread and Butter Zucchini Pickles: For a tangy and sweet treat, try canning zucchini pickles. These pickles make a great addition to sandwiches, salads, or enjoyed on their own.
Zucchini Relish: Turn your extra zucchini into a flavorful delicacy that can be used on hot dogs, burgers, or as a condiment in a variety of dishes. The flavor of canning zucchini ensures that you can enjoy it year-round.
With these recipes and preservation methods, you can get the most out of your zucchini harvest and enjoy its flavors in a variety of dishes. So, embrace the versatility of zucchini and let your culinary creativity shine!
Good planning is the key to a successful vegetable garden.
Whether you're new to growing your own food or have been planting a vegetable garden for years, you'll benefit from some form of planning each year. You'll find everything you need to organize and plan your vegetable garden in my PDF eBook, Create a good life guide for planning your vegetable garden..